The ability to communicate and share information is now a fundamental part of every sector of the economy, in both the public and private sectors (mandatory legal information to be displayed in companies or council offices (indoor and outdoor settings); POS tools (product catalogues or offers updated in real time)). POS offers, advertising... Our information units are designed to meet all these needs.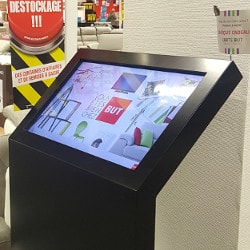 A large chain of shops in France now uses touchscreen podiums to present its catalogue to customers and support the sales team.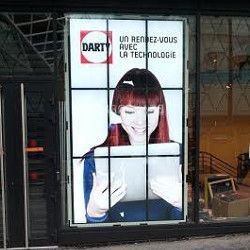 Contact-us
Inform customers and guide them towards the perfect holiday. Show video footage of dream holidays and display travel and flight offers in real time with seasonal promotions.
We can develop bespoke software for our TABATA units. Consult brochures, browse and direct to official websites, show videos, etc.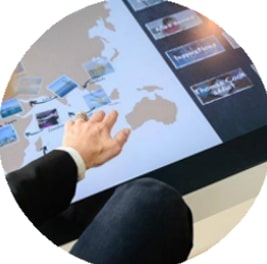 Use a CLEA touch table to distract children whilst parents book their next family holiday.
Contact-us
ADMINISTRATIVE AUTHORITIES
Inform users with databases connected to our touch podiums, totems and tables allowing them to find the right information, fast (corporate and public sectors). HUMElab already supplies councils, chambers of commerce, regional headquarters and tourist offices with indoor and outdoor digital furniture connected to their bespoke software.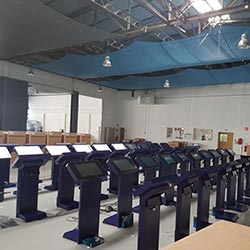 The French Army sought our help with a military project, wanting to provide touch podiums customised in its colours and branding, as did the Occitania regional council via our partner Econocom and the public works contract which included a good number of HUMElab products.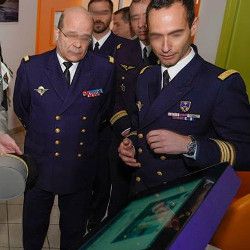 Contact-us
HUMElab builds and sells a range of digital furniture for the auto sector via its network of integrators. This includes dynamic display totems for inside the showroom, the window or outside.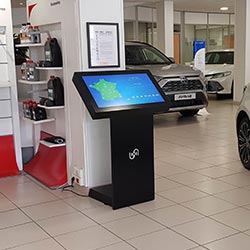 TOMA touch podiums or TABATA and SAMANTA touch tables can be used to present car configurators disguised as sales tools or even a catalogue of second-hand vehicles available to buy from within the Group's network.
Contact-us
In the past few years, HUMElab has actively contributed to numerous refurbishment projects to create the bank branches of tomorrow. The arrival of neobanks and online banking has put pressure on traditional bricks-and-mortar branches. More than ever before, digital pathways and the customer experience are major issues for banking networks.
Crédit Agricole branches in the East Central region now use our TABATA tables to provide customers with information while they wait, thanks to a bespoke software application. Crédit du Nord also chose our TABATA tables as part of the new digital pathway within the Société Générale Group.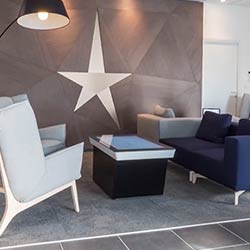 Contact-us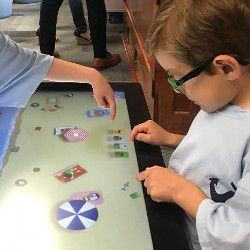 Our CLEA tables are widely used for educational purposes in the USA where they promote the concept of learning through play. Our game pack includes several educational games.
A 55" SAMANTA table at the Maison Rachi cultural centre in Troyes, via our partner Okenite.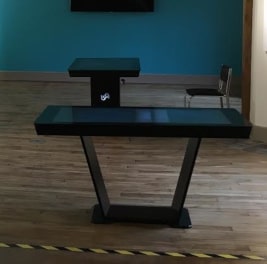 Contact-us
The main advantage of touch tables in restaurants is the ability to present not just pictures of the dishes but videos, and offer extras to tempt the taste buds and also attract new diners who do not know the restaurant and may not know all the dishes on the menu.
Interactive touch table to inform diners at a restaurant. Since 2015, a major chain of fast food outlets has been using our SAMANTA touch tables.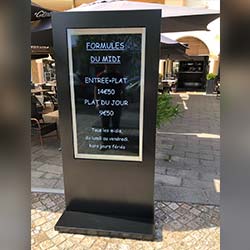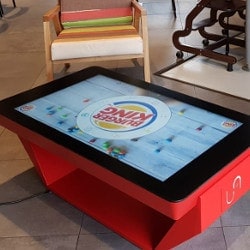 Interactive information tables. Fast food outlets have been using our TABATA touch tables for many years.
Contact-us
ESTATE AGENTS AND REALTORS
HUMElab has been supplying estate agents with information tools for many years. High brightness dynamic display screens to highlight the best listings with our Screenlab Immo software (fully synchronised with around 40 ERP packages currently available on this market).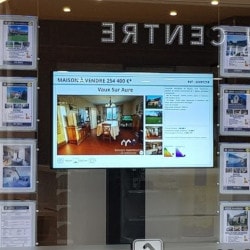 Interactive window displays thanks to our ImmoTouch software, which along with Screenlab Immo is compatible with all existing ERP software. ImmoTouch has also been developed to work with two major shop window technologies, namely touch film for thin glass windows and AIRxTOUCH (the only future-proof technology for window interactivity because it works even with double glazing and thick glass, making film solutions obsolete).
A new intuitive property search and selection tool with an advanced search engine that generates customer contacts and telemetry to maximise the agent's strengths.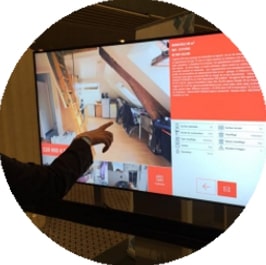 Contact-us
HUMElab has for many years been making dynamic display devices for pharmacy groups, especially totems with high brightness screens to advertise products and promote good practices to passers-by.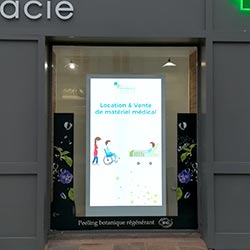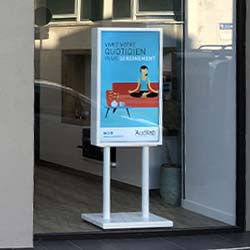 As well as pharmacies, HUMElab has been digitising the windows and client pathways for networks of eyesight and hearing specialists.
Contact-us
The Amaury Sports Organisation has been using HUMElab to supply the registration podiums for its cycle races since 2015 (Paris-Nice, Paris-Roubaix, La Flèche Wallonne, Lège Bastogne Liège, The Tour de Yorkshire, Le Dauphiné and, of course, the Tour de France). The HUMElab teams work alongside the ASO throughout these events, which are just as physically challenging for the participants as they are mentally challenging for the backstage teams at head office providing the software updates.
Our TOMA podiums are also used for the Paris-Dakar rally and the Paris Marathon.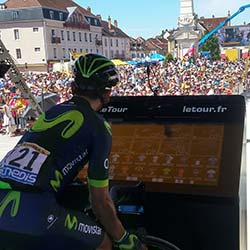 Contact-us