Discover the power of the touch table
Innovative and fun, interactive tables are a new way to interact and play. Dive into a fully immersive touchscreen world offering brand new ways to interact.
Bring interactivity into your business
Enjoy a brand new digital experience with a connected touch table. In the atrium of a shopping centre, an exhibition or any type of company, digital furniture makes life easier for your visitors by offering an interactive experience. The sleek designs fit in perfectly to any type of establishment and can be customised with your company colours. From adjustable touch podiums to interactive terminals, to touchscreen totems for outdoors, discover all the possibilities of our range of interactive furniture. Touch tables will modernise your spaces thanks to their interactive interface and exceptionally smooth dynamic display. Improve the customer experience by offering a range of services, such as targeted multimedia content about your company, interactive maps, games and activities. The perfect way to make a living space or work environment more dynamic, touch tables provide a collaborative experience and totally transform the way we work. Built using the very latest technologies, our interactive tables have a 42" HD LED backlit display with optimum high brightness. Multi-touch technology means several people can use the screen at the same time, with no loss of performance. Efficient and robust, they are the ideal tool for a large number of sectors (e.g. hotels, restaurants, culture) as well as for home use. For an even fuller experience, our touch furniture can be easily connected to your other devices, such as smartphones, tablets and TVs, creating infinite possibilities with unrivalled performance. Always on the search for innovation and performance, HUMElab offers the very best in digital furniture combining elegance and cutting-edge touchscreen technology.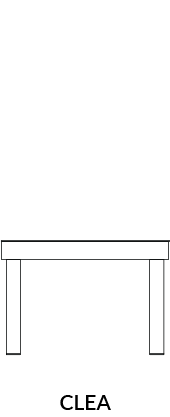 A children's touch table: a new way to learn through play
This low-standing touchscreen games table has been designed especially for young and old alike. Boasting a multi-user interface, it makes family time more fun and exciting than ever. It is also perfect for educational and recreational settings, thanks to age-suitable educational software with highly interactive features for children. The CLEA low table is strong enough to cope with everyday life, with a water- and shock-resistant surface making it perfectly safe for children. It comes programmed with a range of multi-player games for a fun participatory experience. These interactive low tables are ideal for kids' corners and will transform boring waiting rooms into a captivating game. They will also suit entrance lobbies, games rooms and multimedia libraries. The projected capacitive touchscreen of our CLEA low table offers a smooth and seamless display for a unique digital experience and unprecedented interactivity.